Description
The Complete Goal Setting (and Reaching!) Guide includes everything you need to know to set S.M.A.R.T.E.R. goals and what you need to do to achieve them.
Part One will help you understand what constitutes a S.M.A.R.T.E.R. goal and why it makes all the difference
Part Two gives you the insider tips and techniques that will propel you to success.
Part Three is where you set your own create your S.M.A.R.T.E.R. goal and an action plan that will empower you to act with complete confidence.
If you've ever wondered why some people are able to set goals with ease and consistently reach them, while you struggle to do the same, this guide is for you. We spill the *secrets* and share everything you need to know. Spoiler alert: There's no rocket science here, just incredibly effective techniques that anybody can act on with ease.
You'll gain insight into how you might be sabotaging  yourself or otherwise impeding yourself from actually reaching your goals (this is game changing!). You'll never set another go-nowhere goal again. And that means you'll never experience the feeling of failure that comes with those unmet goals.
Perhaps the best part of the guide, you quickly and easily overcome the overwhelm that so often accompanies the work of reaching goals on our priorities.
Getting started is always the hardest part, right? Not anymore! The Complete Goal Setting Guide will give you the clarity you need to know exactly what step one is, and step two, step three, step four and right through to the end.
We create a no excuse zone by helping you break down even the loftiest goal into bite sized tasks that are crystal clear! You'll always know exactly what you need to do next.
Who It's For:

Anyone who struggles with setting goals.
Anyone who is over setting goals but never actually reaching them.
Anyone who feels overwhelmed by getting started on a goal.
Anyone who wants to take control of their life and turn dreams into reality.
What You'll Get:
An interactive 45 page PDF, which includes the how-to content and planning worksheets.
You can edit and save the guide so you can use it over and over.
Invitation and link to our private Facebook page – join us for support in creating a simpler, more satisfying life.
What You'll Gain:
A new reality! That's right, when take a goal from conception to completion you change your reality. You'll get the tools you need to help you identify the goals that will change your life. You'll be guided through exactly what you need to do create a definitely doable plan and take the kind of action that leads to results. Bottom line: You'll learn how to chart a course to destination of your choosing and you'll gain the skills you need to get there!
Sample Page Views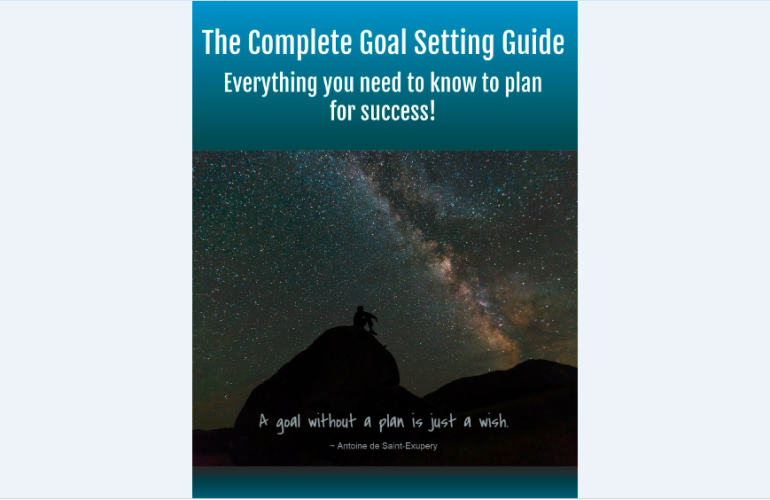 What To Know About PDFs and Digital Downloads
If you've never purchased downloadable digital products, we've got a sweet little tutorial here that will show just what to expect and how they work. A PDF is a Portable Document Format, it works on all systems. Adobe makes the the most well known PDF reader – Adobe Reader – it's the universals standard, trusted worldwide as the go-to tool for reading and editing PDF's . You most likely already have it installed. If for some reason you don't, you can find the free download here: https://acrobat.adobe.com/us/en/products/pdf-reader.html Even if you do have Adobe Reader installed, you may want to update to their newest version. While any version will work with our products, we love the sleek new interface of Adobe Reader DC. It immediately highlights editable fields for super simple navigation.
Satisfaction Guarantee:
We want you to feel confident in your investment, so we've removed all the risk. While we hope you'll be pleased with your purchase, we want you to know that we stand behind it and we'll happily issue a refund.
Because of the nature of the products, you have them in hand immediately, and the fact that they are being sold to support a cause, we require two things. Refunds must be requested within 5 days of purchasing. And we would like to know how we failed to satisfy you, along with suggestions for making the product better. That feedback is imperative to helping us improve so we can serve our customers better in the future. And we figure it's a pretty decent trade off, since the product will still be yours to use.