Description
There's no doubt about it, paper clutter creates stress. Between advertising, coupons, catalogs, billing statements, solicitations, magazines, newspapers, and school correspondence, your home can look and feel like it's flooded with paper. You might even feel like you're drowning in it.
Paper clutter and the accompanying disorganization costs time and money, and leaves a feeling of frustration in its wake. Like when you can't find what you need, so you burn minutes searching in vain. Or you find it too late and have to pay a stiff penalty.
Unfortunately we can't stop the flow of paper into our lives. But we can learn to deal with effectively and efficiently. And that's exactly what Paper Organization Made Easy will help you do.
It's the perfect resource if you would like to:
Eliminate paper clutter for good.
Know what paper to keep, what to toss.
Create a mail handling center so you never misplace anything.
Stay on top of action items.
Find exactly what you need, when you need it.
Build a filing system that really works.
Organize bills so you never risk paying a late fee again.
Stop junk mail.
This self guided workshop takes you step-by-step through the entire process of clearing out clutter and creating an organized system that will work for your unique circumstances. It's got a built in *act on it* component, so you won't have to wonder where or how to start. If you're motivated to create change and get your paper organized, this will be as effective as having an organizing coach by your side.
You will learn:
How to decide what papers to keep, what to toss, and what to shred.
Why embracing your natural tendencies can save you time and help you stay organized.
How to organize paper so you can easily access what you need, when you need it.
Why no one system will work for everyone, it's different strokes for different folks.
How to involve your family in managing paper (preschool to high school, kids can help).
Why words really matter when it comes to setting up a filing system.
How to manage your mail so nothing ever gets lost, misplaced or forgotten.
Why not everything (and maybe even nothing, depending on your situation) has to be filed.
The end result will be that you will know exactly what to do with each piece of paper that comes into your home.
Miscellaneous piles will be a thing of the past! No more wondering what happened to the electric bill. No more mad searches for school permission slips. No more missed invitations. No more expired coupons because you 'lost' them. No more late fees because you misplaced your statement, again.
Who It's For:

Anyone who struggles with paper clutter and is ready to take action.
Anyone who wants to overcome the overwhelm that paper causes.
Anyone who is ready to create new paper management habits.
What You'll Get:
An interactive 92 page PDF, which includes the how-to content and planning worksheets.
You can edit and save the guide so you can use it over and over.
Invitation and link to our private Facebook page – join us for support in creating a clutter free, organized life.
What You'll Gain:
A new skill set that will allow you to confidently deal with all the paper that flows into your life. A system that will support you in being able manage your paper with ease. Plus you'll save time, money and effort. You'll be able to find what you need when you need it. You'll be able to relax without guilt or worry about what lurks in the piles (because they'll be gone!).
Sample Page Views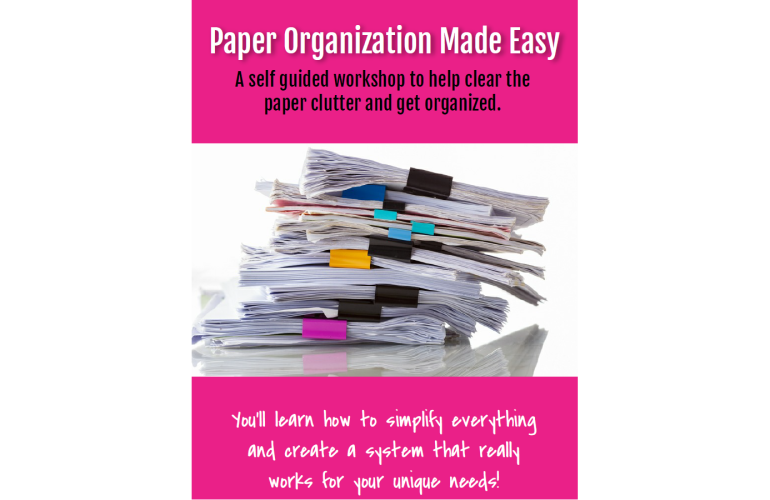 What To Know About PDFs and Digital Downloads
If you've never purchased downloadable digital products, we've got a sweet little tutorial here that will show just what to expect and how they work. A PDF is a Portable Document Format, it works on all systems. Adobe makes the the most well known PDF reader – Adobe Reader – it's the universals standard, trusted worldwide as the go-to tool for reading and editing PDF's . You most likely already have it installed. If for some reason you don't, you can find the free download here: https://acrobat.adobe.com/us/en/products/pdf-reader.html Even if you do have Adobe Reader installed, you may want to update to their newest version. While any version will work with our products, we love the sleek new interface of Adobe Reader DC. It immediately highlights editable fields for super simple navigation.
Satisfaction Guarantee:
We want you to feel confident in your investment, so we've removed all the risk. While we hope you'll be pleased with your purchase, we want you to know that we stand behind it and we'll happily issue a refund.
Because of the nature of the products, you have them in hand immediately, and the fact that they are being sold to support a cause, we require two things. Refunds must be requested within 5 days of purchasing. And we would like to know how we failed to satisfy you, along with suggestions for making the product better. That feedback is imperative to helping us improve so we can serve our customers better in the future. And we figure it's a pretty decent trade off, since the product will still be yours to use.