Description
If clutter has become a source of stress, frustration or embarrassment, Clutter Control 101 – A Self Guided Workshop To Help You Declutter Your Whole Life is tailor made for you!  It will show you, step by step, how to take charge and clear clutter for good.
This is the real deal, as a professional organizer and clutter coach I know what it takes to address the root causes of clutter. Clutter isn't just about your stuff – mindset and emotions play a major role. Mental barriers are real and I'll show you how to break through them!
It's very easy to get overwhelmed when you are surrounded by tons of stuff. And rightfully so. Trying to get clutter under control is a little like herding cats – it's a big challenge, physically and mentally.  To be successful you have to have a clear plan and know the tricks to outwit the clutter.
Clutter is a mixture of many things. It represents delayed decisions, emotional baggage and good intentions. This workshop teaches you everything you need to know to declutter your space and your life.
You will:
Identify the root causes of your clutter. (Could not being able to say 'No' be one?)
Learn how to decide what's truly important, and easily determine what's not.
Let go of the things that no longer serve or support you. (This is so empowering!)
Create an action plan so clutter never has a chance of making it past your front door.
Learn how clutter stands in the way of getting organized. (It's more like a giant roadblock.)
Be introduced to the basic principles for organized living. (Get ready for more free time!)
Regain control over your space. (You really can live clutter free forever!)
Learn how five minutes invested now will pay off in hours later. (Organization has its rewards!)
The end result will be that you will know exactly how to put an end to clutter for good! You will be on your way to organized living – which saves time, stress, and money!
This isn't just a how-to workshop, it has a built in 'act on it now' component. Information without action is just more clutter and your goal is to lose the clutter, right? This workshop combines information with practical application. If you are ready to act, you will see real results.
Who It's For:

Anyone who struggles with clutter and is ready to take action.
Anyone who wants to overcome the emotional pull of "stuff".
Anyone who feels overwhelmed with where or how to start decluttering
Anyone who wants to take control of their life and embrace organized living.
What You'll Get:
An interactive 89 page PDF, which includes the how-to content and planning worksheets.
You can edit and save the guide so you can use it over and over.
Invitation and link to our private Facebook page – join us for support in creating a simpler, more satisfying life.
What You'll Gain:
Freedom! Confidence! Space! And best of all, control over your home and life. That's really and truly what you get when you clear out the clutter. Decluttering gives you a sense of clarity. When you peel away and let go of the excess, you can see what matters. Your priorities will no longer get lost in the shuffle. Plus you'll save time, money and effort. You'll be able to find what you need when you need it. You'll be able to relax without guilt or worry about what lurks in the piles (because they'll be gone!). Your time will be your own because your life will be in order. Chaos will be replaced with calm. Ahhh!
Sample Page Views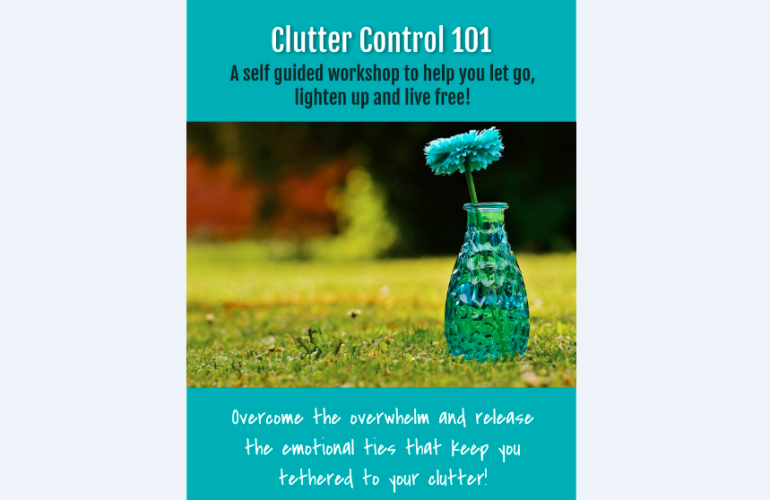 What To Know About PDFs and Digital Downloads
If you've never purchased downloadable digital products, we've got a sweet little tutorial here that will show just what to expect and how they work. A PDF is a Portable Document Format, it works on all systems. Adobe makes the the most well known PDF reader – Adobe Reader – it's the universals standard, trusted worldwide as the go-to tool for reading and editing PDF's . You most likely already have it installed. If for some reason you don't, you can find the free download here: https://acrobat.adobe.com/us/en/products/pdf-reader.html Even if you do have Adobe Reader installed, you may want to update to their newest version. While any version will work with our products, we love the sleek new interface of Adobe Reader DC. It immediately highlights editable fields for super simple navigation.
Satisfaction Guarantee:
We want you to feel confident in your investment, so we've removed all the risk. While we hope you'll be pleased with your purchase, we want you to know that we stand behind it and we'll happily issue a refund.
Because of the nature of the products, you have them in hand immediately, and the fact that they are being sold to support a cause, we require two things. Refunds must be requested within 5 days of purchasing. And we would like to know how we failed to satisfy you, along with suggestions for making the product better. That feedback is imperative to helping us improve so we can serve our customers better in the future. And we figure it's a pretty decent trade off, since the product will still be yours to use.